Imagine the purest spring water trickling down streams, through rocks and showering in large and small waterfalls by Norwegian mountains. Feel the power and energy from the water's flow, waves and soda.
70% of the human body is made up of water. Without water there is no life. Water chemically consists of a molecule with one hydrogen atom and two oxygen atoms. Structurally, science shows that atoms can turn differently and that the chemical structure of water itself therefore changes.
The more the water is processed and e.g. runs through water pipes, the more the structure of the atoms changes. Think about the taste of the clean spring water and the processed water in the taps compared to in the big cities. The difference is big.
Natural energy optimization – what is it?
NEO stands for "Natural Energy Optimization". It's brand new scientific terrain. It involves water in its original form and structure circulating in a ceramic jar. Through this circulation, the water emits energies through a space where people sit in comfortable surroundings. Their body and cells which are filled with water are affected by precisely these energies.
It is alternative therapy that is gaining ground in many places in Denmark. There are 15 centers already, and i.a. shows municipalities and companies interest in testing NEO as it optimizes the well-being and immune system of their employees. Some doctors experience effects for patients receiving chemotherapy, although they can not yet explain it scientifically.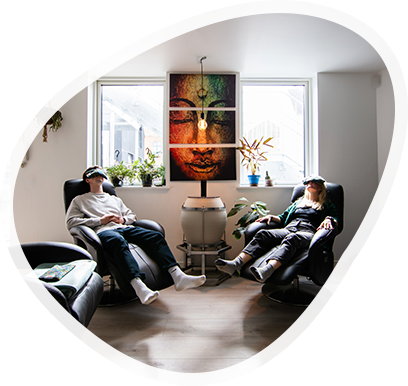 NEO in Float Studio Aarhus and Copenhagen.
In Float Studio, we have tested NEO treatment together with flow therapy, and we find the results surprising. The combination gives an incredible energy boost and takes physical and mental well-being to completely new heights.
When preventing stress, stress sufferers get a lot of good advice on how to relax their minds and, for example, go for walks or do breathing exercises. But just letting go of the thoughts can be difficult for people who, for various reasons, feel challenged in their lives.
NEO treatment alone or in combination with floating, can therefore be a simple and effective tool to help find peace of mind and soul. NEO is for you who need to relax and find freedom in everyday life, and for you who are affected by challenges in your life and need to pay extra attention to your mental state. If the brain does not recover and you do not find peace, you risk continuing in negative spirals.
Neo is also for you who experience physical challenges, as neo naturally goes in and supports your body's healing processes and optimizes the cells' work processes and functions. Neo is a powerful form of treatment in the restoration of physical imbalances.
Float Studio is dedicated to helping people. With the picture of how many people in Denmark today feel challenged mentally and physically, it is important to be at the forefront and try out new natural tools to help people where they are.
Want to know more about NEO?
On our website, you can read much more under NEO about what this form of treatment is and why we think it is important for our state of health.